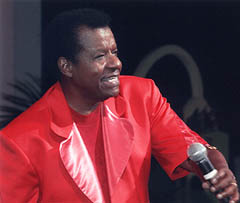 Yes, I am alive and well, and living in Las Vegas, Nevada. My name is Jerome Anthony Gourdine, but you know me as Little Anthony of Little Anthony and The Imperials.
I was born in 1941 in New York City and presided in Brooklyn for thirty years of my life. My mother and father were musicians and my three brothers were also involved in music. My mother sang gospel with her sisters. The name of the group was the Nazareth Baptist singers. My father played saxophone (tenor, alto). He performed with the Sinclair Orchestra and the Buddy Johnson Orchestra. He also worked as an electrician at the Brooklyn Navy yard during the Second World War. We all lived in the Fort Green Project Complex run by the United States Government for its Navy yard workers.
I attended my formal years in school at Public School 67 Elementary School. This is where I became acquainted with Mrs. Ethel Mannix ,who was my music and arts teacher from the 6th through the 8th grade. She was very influential in my knowledge of all forms of music which is known as music appreciation.
I met Clarence Collins and Ernest Wright as a youngster. Clarence had formed a singing group called The Chesters. The other members of the group were Tracy Lord, Nathaniel Rodgers, and Ronald Ross. Clarence was looking for a lead singer, which I soon became. The year was 1957. We signed a recording contract with Gone and End records. The president was George Goldner and his A&R man was Richard Barrett. Richard had already introduced groups like Frankie Lyman and The Teenagers, The Chantels, The Dubs, and The Flamingos.
Our group was renamed The Imperials and came out with our very first hit record, "Tears on My Pillow," which was a top ten hit. This was the beginning of a long and illustrious career. For a brief period we dissolved in 1961 for two and a half years. In 1964 we met Mr. Ernie Martinelli, who agreed to manage the Imperials if I agreed to join the group again. I agreed to it and we resumed where we had left off. In 1964, Ernie met a gentleman by the name of Teddy Randazzo, whom he had been acquainted with before. He was in partnership with Don Costa; one of America's most prolific music arranger. They were starting an independent record company - DCP. Records. This association produced some of the best music of the middle '60s. It was a time that produced such illustrious performers as The Beatles, Dionne Warwick, Motown and The Drifters.
We were extremely successful in our recording adventures. Songs like "I'm Outside Looking In," "Goin' Out of My Head," "Hurt So Bad," "Take Me Back" and others from 1964 through 1967 were extremely successful. We performed at places like Lincoln Center in New York with Dionne Warwick, Burt Bacharach, and conducting for us was Teddy Randazzo. We also appeared on the Ed Sullivan Show, the Kraft Music Hall television show, and Dick Clark specials.
In 1969, Ernest Wright left the group to pursue his own career, followed by Sammy Strain in 1972. They were replaced by Bobby Wade and Harold Jenkins until 1975 when I decided I had had enough and wanted to expand my talent as a solo artist. As a child I was an actor and decided to pursue that part of my talent as well. I was reasonably successful. I had study with quite a few teachers and schools. But one special teacher help to mold me into a very good actor. His name was David Alexander, who had a profound influence on me. He had worked with and taught such people as Jack Lemon, and many others. I appeared in commercials and did television shows, ('The Jeffersons,' 'Kingston Confidential'). I performed in the movie 'Contact 303' with Henry Fonda, Billy D Williams, and Chad Everett. I also did plays like 'Sistuh's' at the L.A. Actors Theater, 'Are You Looking' with Ed Harris and Helen Shaffer, and 'Come Back America.' In my acting profession I was simply known as Anthony Gourdine, my real name. For sixteen years, I sang solo as Little Anthony and acted as Anthony Gourdine and was fairly successful.
In 1978 I had a profound experience that turned my life around. I became a Born Again Christian. I recorded a Christian album in 1979 called 'Daylight.' I was introduced to many fine Christian believers, also Evangelist, and Pastors. I have appeared on the 'Praise the Lord' television show (TBN) on numerous occasions and will appear again soon.
In 1991, a gentleman by the name of Dick Fox, (an agent from NYC) was promoting a special concert at Madison Square Gardens called The Legends. He asked me if it was possible to reunite The Imperials for this special engagement. I agreed to it and commenced to contact the individual Imperials. I located Clarence Collins in Las Vegas. He agreed and located Ernest Wright in Europe. Sammy Strain was a member of the famous R&B group The O'Jays. He contacted me because he had heard about the concert. This was the beginning of the reconstruction of Little Anthony and the Original Imperials. We have been together ever since.
I was married very young (1961) to Judy Fouseca. We had two children, Andre and Tony. We divorced in 1963 after two years of marriage. We came together again in 1964 and we were remarried in 1967. We then bought a house in Baldwin Hills, New York. We lived there from 1969 to 1971, then moved to Los Angeles, CA. I also had two other children, Antoinette and Liza Gourdine. In 1974, I was again divorced from Judy. It was during this same year, 1974, I met my present wife of 24 years, Linda. Linda has been a teacher for the last 26 years and also is the advisor for the Cheer, Drill, and Dance squads at Dodson Middle School. I have eight grand children and one great-grand child. I have been very blessed by God by my children. My oldest son Andre, is recording engineer, my son Tony is a sports agent with several clients in the NFL. My oldest daughter Antoinette is a nurse's aid with senior citizens. My daughter Liza is living and working in Orlando, Florida where she resides with her three children and husband Tony. My daughter Sarah is now attending El Camino College in Los Angeles. My Son Damon just began his first year as a NFL player with the San Diego Chargers. My son Casey attends San Diego State College and my youngest son Daniel attends San Diego State College and also plays football for them with hopes to join his brother Damon one day in the NFL or become an actor.
I recently completed a new album, which I produced, and wrote several songs on the album. We are now in the process of shopping it. My dream is to release the CD and continue writing music and returning to the theatrical stage. I am also in the process of producing my three sons, Casey, Damon, Daniel, and a friend Derek, as a new young group called Gifted.
Clarence Collins:
Founder / Singer / Producer / Writer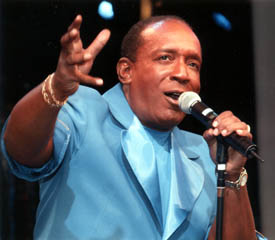 My name is Clarence Collins, now living in Las Vegas, Nevada. I am the founder of The Imperials and trademarked the name back when the group first began.
I was born in 1942 in Brooklyn, New York where I grew up with my ten brothers and sisters and was raised by my father. I am the second to the youngest, where at the age of two, my mother passed away. My father worked at the Brooklyn Navy Shipyard during the Second World War. We all lived in the Fort Green Project Complex run by the United States Government for its Navy yard workers. My father worked along with Anthony's father, so Anthony and I have known each other since the age of 3. I attended Public School 67 Elementary School and during my high school years attend Boys High. My father played the piano with a jazz band, and this is where my interest for music started. My sixth grade teacher, Mrs. Ethel Mannix, was a major influence on my music knowledge of all forms of music.
At the age of 13, I decided to form a group called The Chesters. Anthony became the lead singer, Tracey Lord sang tenor, Ernest Wright sang second tenor, Glouster Rogers sang bass, and I sang baritone. In early 1958, Richard Barrette, an A&R man for End records spotted our group and signed us to a contract and changed the name to the Imperials. Our first record for End was a double-sided ballad smash. The A side, "Tears On My Pillow," instantly launched our careers into musical history. This would be one of our biggest selling hits, selling over one million copies. The flip side hit, "Two People in the World" made this one of the most popular double-sided records in vocal group history. In 1969, the group released a Doo Wop novelty tune, "Shimmy, Shimmy Ko-Ko Bop." The group dissolved for a brief period but reformed, minus Tracey Lord and Glouster Rogers, adding Sammy Strain.
Our manager at the time Ernie Martinelli took us to meet a long time friend of his, Teddy Randazzo, who loved our sound. He put together a perfect song for Anthony and the group, "I'm On The Outside Looking In," which became another million seller.
The group was signed to a record contract in the summer of 1964 to Don Costa Productions. It was during the years of 1964 through 1967 that many of our successful songs were released. Songs like "I'm On The Outside Looking In," "Goin' Out Of My Head," "Hurt So Bad," "Take Me Back," "Shimmy, Shimmy, Ko-Ko Bop," and many others were very successful. We did many appearances on TV, such as, your Hit Parade, The Ed Sullivan Show, The Tonight Show, Shindig, Hullabaloo, Kraft Theater and numerous Dick Clark Specials. We performed at many of the major casinos in Las Vegas, Reno, and Miami Beach circuit, the Caribbean Islands, the famed Copacabana and the National night club and concert circuit.
In 1969, Ernest Wright left the group to pursue his own career, followed by Sammy Strain in 1972. I replaced them with Bobby Wade and Harold Jenkins. Anthony remained with the group until 1975, when he also decided to try other ventures. As founder of the group, I continued with Bobby and Harold performing as The Imperials.
In 1991, I received a phone call from Anthony who informed me that a gentleman by the name of Dick Fox was interested in reuniting the original members of the group to do a concert at Madison Square Gardens in New York. All of the original members were contacted and agreed to do the concert. At our first rehearsal, it appeared as if we had never been apart. The sound was bigger and better than ever. Following the concert, which was a tremendous success, we decided to reform the original group of Anthony, Ernest, Sammy, and myself, Clarence. The rest is history. The group is now officially known as, Little Anthony and the Original Imperials. We are one of a few remaining R&B groups today consisting of all the original members of the group. That's something we are very proud of.
Although, I have been a believer most of my life, I gave my life totally to the Lord in 1998. Today I give Christ all the credit for the many successes in my career and life. In addition to singing with Little Anthony and the Imperials, I enjoy singing with the praise band and choir of my church. Anthony has appeared on the Praise the Lord television show several times on numerous occasions and I will be joining him soon as well. We hope to produce and write Christian music as well as continue to write and produce new tunes for the group.
I was married twice before my present wife and have eight children. I have five sons, Mark, David, Kevin, Jeffery, and Chris. I have three daughters, Robin, Danielle, and Amy. My present wife, Brenda has a son, Richard and a daughter, Wendy. Together we have ten children and eight grandchildren. I first met Brenda in 1974, but we did not get married until 1996. 1974 is also when Anthony met Brenda's twin sister Linda. They were soon married. I was working in Las Vegas and Brenda was working in Los Angeles, so it wasn't until the Imperials reunion that my wife and I got together.
Now, when I'm not touring with Little Anthony and the Imperials, I also work at AdForce, an Internet company along with my wife Brenda. Brenda is the Development/Operations Executive Administrator and I work as an Administrative Facility Engineer. I have produced a new CD titled "Up Close and Personal" for the group and I am working with Anthony on a new CD, which Anthony produced. My dream is to continue in the music industry as a producer/writer/performer and touch and many lives with the sounds of music for many years to come.
Ernest Wright:
Producer / Writer / Manager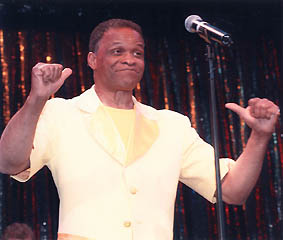 My name is Ernest Wright and I am presently living in Staten Island, New York with my wife and daughter Nicole. I grew up in Brooklyn, New York, where as a young boy, I met Anthony, Clarence and Sammy. On many occasions you could find us on the street corners of New York singing acappella for hours. Clarence Collins decided to form a group called The Chesters, which myself, Anthony, and Clarence were a part of. A few years later the name of the group was officially changed to The Imperials. It was also then when Sammy Strain joined our group as well.
After starting in 1958 and having one of the biggest records of that year, "Tears On My Pillow," one of the highlights of my career is the hit record that I wrote considered one of the greatest doo wop records of all time, "Two Kinds of People In The World." Many of our other great hits included "I'm On the Outside Looking In," "Goin' Out of My Head," "Hurt So Bad," "Take Me Back," and "Shimmy, Shimmy Ko-Ko Bop."
As well as singing, I have always been interested in writing and producing. As I continue to tour with Little Anthony and the Imperials, I have also taken a step into a new direction of nurturing a number of young artists who I am currently in the studio producing. One of the artists you should look forward to hearing from is my daughter Nicole. She is a tremendous vocalist and she sings in four different languages. Another young artist, KO Platinum, a young lady who does hip hop, and a young man, Heckle, another outstanding hip-hop artist.
I left the Imperials for a while in 1969 and went to Europe with one of the greatest voices in American music, Tony Williams, the lead singer of the fabulous, legendary Platters. We had a musical review called, The Magical Sound of the Platters.
Of course, being inspired to get into show business was a great time in our lives because Otis Blackwell, the writer of a number of Elvis Presley's biggest hits like "Return To Sender," "All Shook Up," and many others, started us in the business in the 1950s. We were fortunate to have met one of America's greatest songwriters.
After living in Europe for a number of years, I returned to America to do The Imperials reunion concert at Madison Square Garden in 1992. At that time we decided to regroup after being apart for 17 years. At this point in our lives and in our careers, we are performing for many of the major corporations in America and the top casinos and we are doing quite well at it.
While I have a moment with you, allow me to mention one of the highlights of my life, which was a conversation I had with Dr. Martin Luther King after the group appeared at the University of Georgia. To my delight, Dr. King professed to be a fan of our music for years. I met him in the airport where we spoke for a period of time. Another highlight was meeting Senator Robert Kennedy as he started his run for presidency of the United States. A more recent honor for me took place at a gala we performed at in Washington, D.C., where I had the pleasure to meet Dr. Benjamin Carson, a black man who fought his way out of the ghettos of Chicago to become America's greatest brain surgeons. These are just a few privileged moments that my historical journey with Little Anthony and the Imperials have allowed me to experience.
Little Anthony and the Imperials continue a full production venture throughout the world. Those of you, who have logged on, please inquire further to see the various cities where we are appearing in the US throughout the year, in the casinos, stadiums, and music halls. If we come to your town, please come down and experience this legendary music and this legendary trip we continue to take in show business.